Before you know it the holidays will be upon us, and it's never too soon to start thinking of gifts, right? Here are some great gift ideas for the knitters in your life, and if you're a knitter yourself pass this list along to your friends and family to give them some hints 😀
*Please note this post contains affiliate links
1. Yarn
Yarn may be the first gift you think of when considering what to buy a knitter, but I recommend buying after talking to the recipient.  Everyone has there own preference, and with so many options out there, you don't want to give yarn that will never be used.
If you have an environmentally-conscious knitter to buy for, consider O-Wool organic yarns.  It's the only yarn I use anymore and I love the quality and choice of weights and colors.
2. Yarn bowl
Know what goes well with yarn? A yarn bowl.  Yup, I've been yearning for one myself for quite a while. These beauties from blueroompottery, andersenpottery, ningswonderworld, and dandelionpottery will keep your ball of yarn from rolling across the floor.
3. Knitting bag/tote
Carry your knitting with you on the go with any of these stylish totes from SimpleSmiles, madderroot, JoaniesFavoriteThing, and OtterburnPQ.
4. Gift card
Not sure what to get? A gift card to a craft store like Michael's or Jo-Ann Fabrics will let the recipient buy any of the crafty goodies they desire.
5. Knitting needles
Similar to yarn, you'll want to check with the recipient first on what size to get, but unique knitting needles can really bring a smile to their face (and make them think of you every time they knit). You can get exotic needles from TheFiberNest, colorful ones from TheClayBeanCo, or giant fun ones from GoGirlKnitting.
6.  Ball winder
Another one on my personal wish list, a Knitting Yarn Ball Winder will make the job of winding hanks into workable balls a breeze!
7. Yarn swift
To go along with that ball winder, a Yarn Swift will help keep your yarn from tangling while you wind it. Though if you can only get one, go for the yarn swift.  It'll still make winding your ball my hand much easier. 
8. Cutter pendant
Great for knitters on the go, a Yarn Cutter Pendant can be hung from a necklace or keychain as an easy way to snip your yarn as you finish a project.  Simply slip the yarn into the open spaces on the disc to access the blade.
9. Sketchbook
A sketchbook is a great way to capture knitting ideas, make pattern notes, and sketch out new designs for all upcoming projects!
10. Knitting notions
When I first started knitting, I had no ideas what 'notions' were, but they're really just all the little accessories and do-dads that go along with knitting like tape measures, yarn needles, and stitch markers.
This is a safe bet as a gift for a few reasons.  1) If the knitter you're buying for is new to the craft, they may not have any of these items. 2) Even if they do have them, you may be getting them an upgrade.  I myself still have plastic yarn needles from my first Learn To Knit kit, and would love to upgrade to metal tapestry needles. 3) Notions are small and can easily get lost, so having extras is always a good thing!
Try bundling a few different items together such as a colorful tape measure, sharp tapestry needles, and fun stitch markers like these from SuchGwenderfulStuff, lightbrownhare, and beadpassion
11. Knitting Jewelry
Give the gift of jewelry with these knitting needles bracelets from YellowBearWares, yarn ball earrings from JacarandaDesigns, and knitting brooch from Maxworld.
12.  Knitting Mug
Does your knitter stay up late with a ball of yarn and cup of coffee?  Maybe they're more of a morning tea drinker, getting a few rows done before starting the day.  In any case, getting them a knitting mug is a great gift.  Etsy has plenty of options, from this adorable sheep mug to this fun and funky tattoo mug.
13. Pattern book or Stitch Dictionary
There are plenty of free patterns online, but having a nice pattern book can open up many more possibilities.  If the recipient likes to design their own patterns, try Up, Down, All-Around Stitch Dictionary which offers instructions on different ways to knit various kinds of stitches to customize a knitting project. 
14. Needle case
Help keep all the knitting needles in one place with a functional and stylish needle case, like these from AtelierDeSoyun or lenabrowndesigns.
15. Pom Pom maker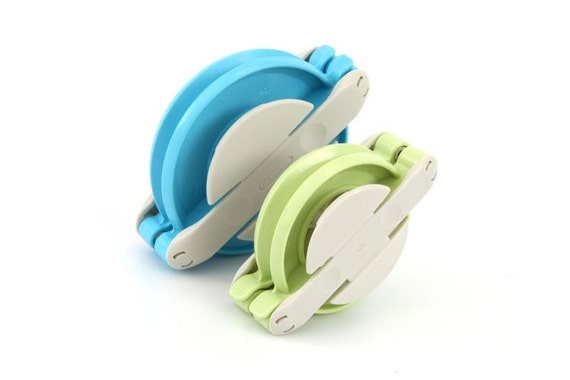 Sure, you can make a pom pom without one of these, but its so much easier with a Pom Pom maker! Gift a set to your favorite knitter and they can start adding pom poms to everything.
16. Yarn storage
Most knitters have a large stash of yarn, or if they don't yet, they will over time.  Why not get them a great way to organize and store it all? Depending on the space they have available, you can get them cube storage from Closet Maid with fabric cube baskets, or maybe a wall-mounted option like this wine rack (following this tutorial from Repeat Crafter Me).  If you're really crafty, you can build a similar version yourself.
17. Trip to a yarn studio or festival
Why not give the gift of a great experience? You can always schedule a trip to a yarn studio or major festival like the Rhinebeck Sheep and Wool Festival in New York every fall.  It's definitely on my own list to go someday.
18. Shawl pins
Shawls are a common project, and a great shawl pin can really bring a lot to an outfit.  There are plenty of choices out there, from the more delicate like this butterfly pin at AnurainDesign to the more rustic like this wooden pin at woolymossroots.
*This post was inspired by 32 Gifts for Crocheters.